Mod your UDOO to improve Wi-fi performances
Dear UDOOers,
today we are going to learn how to improve Wireless Networking signal performances. UDOO's Wi-fi module signal capabilities are comparable to a mobile phone, however some situations require additional signal strenght. So here's how you can mod your UDOO and install an external Antenna. This operation will require some soldering skills and if you have the right tools, it won't require more than 20 minutes. Don't be afraid, this is not too difficult, just be patient and follow this steps:
TOOLS YOU NEED
Soldering Iron with small soldering tip
Tweezers
Third-hand, Multimeter and Magnifying Glass (suggested)

CHOOSE YOUR FAVOURITE EXTERNAL ANTENNA
This is really up to you, you can choose from thousands of different Antenna types. Just find one with an antenna cable and prepare it on your workbench. We choose this compact flat Antenna.
CUT THE ANTENNA CONNECTOR
Since UDOO's wireless module doesn't feature an antenna connector, to solder it we need to remove the one on the Antenna. Just cut it.
PREPARE THE ANTENNA WIRE FOR SOLDERING
Now all you have to do is remove approximately 5mm of the external insulation cover of the antenna wire. Once you did that, remove 2mm of the internal antenna insulation. You'll obtain 2 small pieces of unshielded antenna wire.
PREPARE WI-FI MODULE FOR SOLDERING
UDOO's Wi-fi module needs a little tweaking before it can accept our brand new external Antenna. As you can learn from the Datasheet, there is a small resistor we need to remove before we can attach the new wire. The best way to remove it is pull it gently with our tweezers while heating the surrounding lead with the soldering iron. Be careful and pay attention not to damage the underlying copper traces!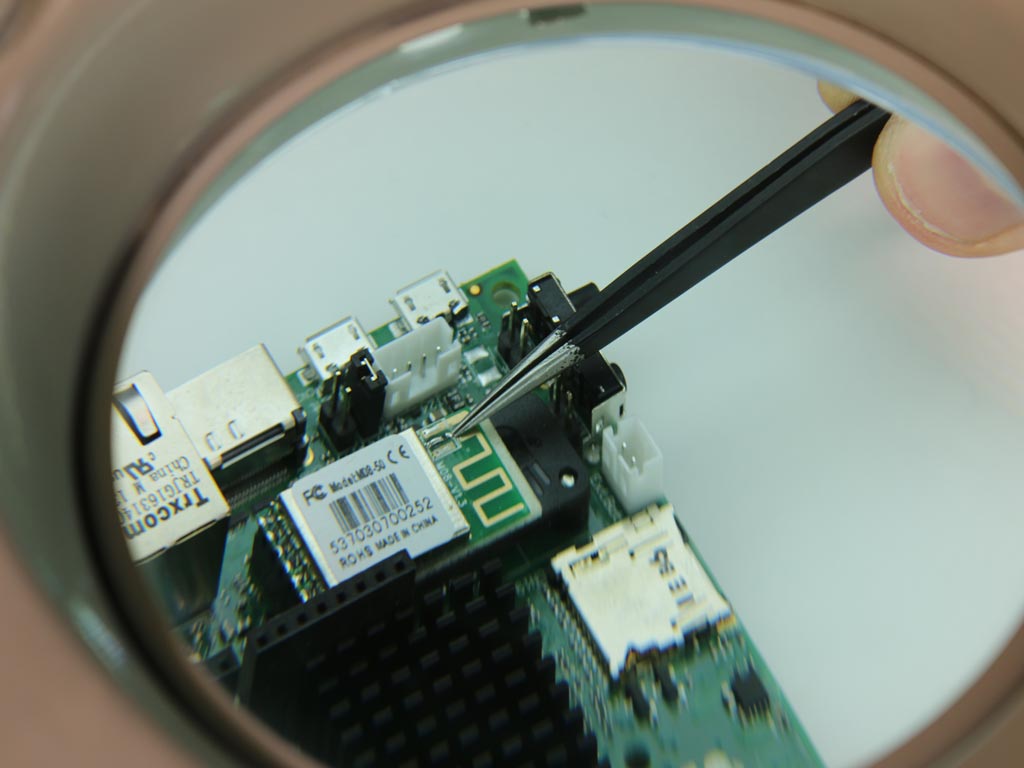 ALIGN AND SOLDER THE ANTENNA WIRE
According to the Datasheet  we need to solder the shield on the inner connector (2) and the wire core on the top one (1).
So, once you have properly aligned the Antenna wire you can solder it in place. Make sure you are using very little lead for each soldering, as using too much will probably result into a shorted connection. Also, don't heat too much the Wi-fi board as you could potentially damage it.
CHECK IF EVERYTHING IS FINE AND ENJOY

One final step before enjoying our little mod is ensure the solderings are firm and clean. You can clean them with solder cleaner and check them with a Multimeter to check there are no short circuits beetween the 2 solder points. If everything is good, you're done!

By: udoo_admin